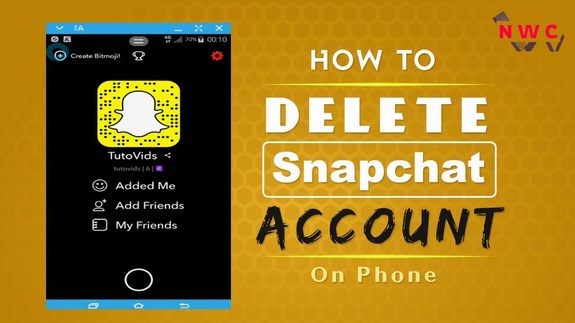 Just like other social media platforms, Snapchat is also a platform where people get distracted. There are various reasons for getting distracted. It may be an unnecessary use of an account and risk online privacy because you decide to delete your Snapchat Account.
Nowadays, Snapchat has been revealed as a greater potential privacy threat. Snapchat also has an internal app called as SnapLion which is created to access private device data. This contains everything from location data and saved photos for private contact information. This application is generally known for its temporary nature.
However, Snapchat has been proliferating in recent years. There are lots of privacy policies of the company such as the amount of personal data which also collects or stored on data. When you search for it there are various steps you see for deleting the account.
We never say that social media accounts are always time-wasting. But many people are making money with Snapchat. It depends on the user how use social media accounts in their life. If you think that Snapchat is wasting too much time then it's better to delete it from your mobile, tablet, or desktop.
Want to Deactivate your Account?
Before deleting your account therefore you'll get two options. The first one is deactivating or the second is deleting your account. Just think that if you want to take a break from your social media accounts then you can deactivate your account for some time. In the deactivation process of the account, you can get back whenever you change your mind. Besides this, you also get back your all posts, messages, and complete data when you activate it again.
But if you get disgusted with social media accounts, especially Snapchat or never want to get back here then you can delete your Snapchat account permanently. There is another option if you think that your mind will change later. Firstly you can deactivate your account. After deactivating if you want back then re-activate it within 30 days. But after this period of 30 days, your account gets automatically deleted permanently. Your friends, stories, chats, and every data get deleted forever.
How to delete a Snapchat Account: Complete a step-by-step guide  
Deleting a Snapchat account becomes easy when you do everything in steps. Follow every single step and delete your history of Snapchat with us.
Step 1: Navigate and Sign in Snapchat Account 
First of all, you have to navigate to accounts.snapchat.com in your web browser and sign into Snapchat with your registered email or username. Remember one thing, if your account has enabled login verification then a code will be texted to your mobile. That code must enter by you in the provided area on the sign-in page.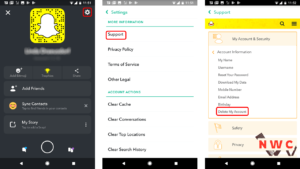 Step 2:  Tap on the profile or follow the gear icon 
When you complete the login process then you have to tap on your bitmoji situated in the left corner. After doing this, you see options for gear at the right corner of the screen. Just click on it for getting access to your account settings tab.
Step 3: Verify mobile number
Now you'll see the option " mobile number " when you click on My account. Just tap on the mobile number option and add your number if you hadn't it previously. Try to put your currently available mobile number.
Now just go back to the previous page by clicking on the back arrow situated in the left corner of the top. Just follow the " login verification" tab and then click on " Continue".You'll get an SMS code just enter the code into the provided area and click continue.
Step 4: Get a Recovery Code 
If you lost your previous number or changed your mobile number then you have to recover your password if you forget it. Click on " Generate code" for getting the recovery code and enter your password for further process.
Step 5: Take a screenshot for safety 
After generating the recovery code, you have to note down it or keep it somewhere for the safety of your account. Now click on the option I wrote it done.
Step 6: Click " delete account" in the account setting 
Go back to your previous step and go to the setting of your account. Just scroll down to the page you will see the option" delete account" for completing your account deleting process.
Step 7: Enter your login details and hit the delete button
At last, Snapchat requires your complete login details again for your confirmation. Put your required details and then click on deactivate or delete option. After a few seconds, you'll get a notification or see the page of your Snapchat account deletion process completed.
Related Links – How to Delete Facebook Account?, How to Delete an Instagram Account?, How to download YouTube videos?